Details

Created: 13 September 2017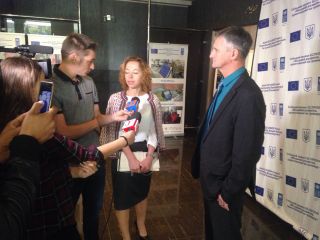 Energy efficiency and energy saving are pressing issues at the community level, where saving on utility bills is just as important as preserving the environment for future generations. Much of Ukraine's infrastructure was built during Soviet-times and not designed for efficiency, nor to last this long. Working with community organizations, UNDP helps them mobilize state funds and other resources to renovate multi-apartment buildings insulating roofs and facades, light up streets by solar energy, heat local health posts, schools and kindergartens with biomass boilers, and install windows and doors that insulate.
On 13-14 September representatives of local authorities, community organization from seven regions came to Uzhhorod for the EU/UNDP CBA inter-regional conference 'Energy Efficiency and Innovative Energy Saving: CBA experience' to sum up the results of EE micro projects' implementation. During these two days, participants will share their own practical experience of introducing EE measures for social infrastructure and housing sector as well as discuss ways and perspectives to further promote alternative energy in rural and urban areas. Participants shared practical cases how to reconstruct the heating system of local kindergartens with biomass boilers, or install solar panels for street lighting, or reconstruct water supply system using innovative energy saving technologies. During the second day of the conference, representatives of 7 regions will visit village Rativtsi to see the local solar power station and to learn the benefits of alternative energy.